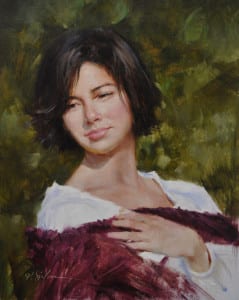 The issue of successfully promoting one's efforts is one that has always given me great pause. I know the importance of not being out of sight for to long….out of sight out of mind. Unfortunately, things move so quickly now that any effort made is fleeing at best. That being said, one still must make the effort. It is not only the self conscious part of it, but the time required to put email ads and newsletters together, face book, etc., that I have the most difficulty with. All of that is time consuming and not much fun. That is time that I personally would prefer spending with brush in hand.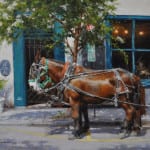 I have always had difficulty with this, as I'm sure many artists do. There is something about tooting one's own horn that is somehow distasteful to me. In my early years as an illustrator, it never was much of an issue for me, because I never had to deal with it. I always had a rep/agent that took care of this type of stuff for me….of course, this came with a price. Reps/agents take a commission, and deservedly so. It was always worth it to not have to deal with this type of minutia, with the work loads and deadlines we had at the time.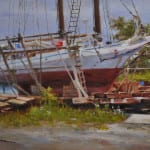 I have been giving this much thought lately as I seem to be spending more time on the computer than I really want to. The more I try to do, or involve myself with, the less time I have to do the important one….which is painting. I try to help the Galleries that represent me as much as possible by sending out announcements, newsletters to my mailing lists, and postings on Face Book and my blog. Even though it is a drop in the bucket, compared to the audience that can be reached by spending a lot of money on expensive ads in major art magazines, I feel like I am contributing somewhat to our partnership. There is after all only so much time in one day or week….using it efficiently is extremely important. These are the areas in my business that I find myself wanting to take shortcuts, or become more efficient at……leaving more quality time for painting.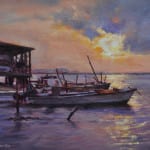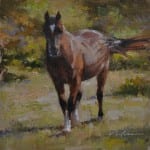 I can only speak for myself when it comes to this discussion. Some folks may like this part of the business, so this is not necessarily a universal opinion held by everyone. The one thing I am sure of is the absolute need to not neglect this part of the art business. As far as answers to solving the problem, or the best solution….I do not have a solution, except to try and find what seems to work for me personally. Again, as in most things, one size does not fit all. What works for me might not be a suitable solution for someone else. Unfortunately the learning process as it relates to this requires making mistakes, and wasting time and sometimes money, with things that really do not advance your career or cause.
Again, thanks for listening to my Cajun Ramblings.