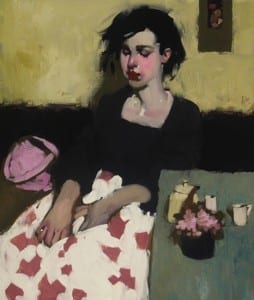 Last December, I was fortunate to be selected for a $500 scholarship from OPA to use toward attending a workshop of my choosing. Since I've long admired the rich, evocative figure paintings of Milt Kobayashi I elected to sign up for his recent class at the Scottsdale Artists School. The ocotillo and palo verde trees were blooming red-orange and yellow making April in Arizona a real joy.
"Stay attuned to opportunities and be open to change" was the advice we received throughout the week. Kobayashi views his once a year class in Scottsdale as a valuable experimental time for himself as well as his students, painting new models, trying new compositions, hearing ideas from his class. He also enjoys the opportunity for creative freedom — no thinking about producing work for galleries or shows. Back home in New York he paints late into the night, the solitary work time often giving his paintings an introspective quality. Every year he says he takes something valuable back to his studio from his workshop experience; maybe something tangible, like a new color combination or maybe simply a creative spirit rejuvenated by the wide open southwest and the bonhomie of simpatico painters in the lively class. He certainly doesn't take home the actual demos he does — the class participants were avid collectors and there was good natured rivalry on Friday when names were drawn for the chance to purchase the five new Kobayashis.
The emphasis for the week was on composition and he encouraged the 18 students to try new arrangements of objects, repeating several times that there are no rules about placement except try to avoid aligning edges. He enjoys pushing the figure to the far edge of a painting, sometimes even looking straight out to the side, an arrangement few artists use. He painted with various color schemes: dark blue (Egyptian blue by Doak) and brownish orange (Mars orange and Mars Yellow he likes for their rich opacity), orangey red-green-lavender, black with a host of grays, and the last day, medium blue and rusty red punctuated by a large area of black. He loves black and is not afraid to make the commitment to use it boldly.

He paints things how he thinks they should be, not exactly the way they look. Nothing is set in stone. He urges you to understand the form and why light is hitting it the way it is.
As he started to paint each morning, beginning with a tone of a warm gray, he seemed to let the design present itself to him. On occasion it was suggested by the shape and strokes of the initial tone, other times, it evolved from pencil lines over the tone as he played with placement of the objects he had in mind. On Tuesday, he decided to place the figure dead center with arms out stretched, making a cross composition. He further emphasized the centrality of the figure by placing a deliberate rectangle of blue right behind her face. He committed himself to his decision. When it came time to paint the mouth, he said with a laugh he was going to make it green, "just because I can." He added a couple more touches of green so the color of the mouth would be repeated. The girl in the painting echoed his attitude of being attuned to possibilities and celebrating who she was.
In Kobayashi's discussion of painting with cool and warm grays of similar values, he made a statement that distilled his decades of experience working in subtle tones: it won't look muddy if you make the strokes crisp. When a painter starts to over blend it is easy for it to turn to mush.
Each afternoon for student painting time, there were three complex model set ups to choose from. These were orchestrated by artist Nancy Chaboun, who also participated in the workshop. Gorgeous fabrics, kimonos, fresh flowers, pillows, vases—if you couldn't get inspired there, you couldn't inspired anywhere.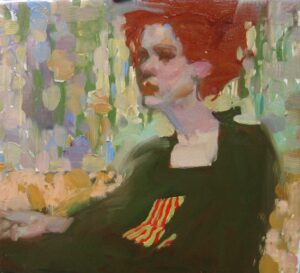 Besides the great class at SAS, there was so much to take advantage of while in Scottsdale. I painted Monday evening in the open studio with a wonderful model, at no charge since I was enrolled in a workshop. Wednesday evening, one of the class members invited everyone to her lovely home for dinner where we also enjoyed her art collection which has an impressive number of Milt's paintings. Thursday afternoon is Thirsty Thursday, put on by the Friends of SAS — great hors d'oeuvres and wine. Thursday evening is gallery walk for the Main Street galleries and the rest of my free time I spent plein air painting or photographing dramatic Arizona scenery. It was a fabulous art week.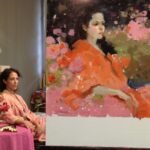 After some hit or miss work the first three days, finally on Thursday I felt I did a painting that incorporated some of Milt's advice.
In case I forget in the future to embolden my compositions, use lots of neutrals in the skin, or throw in a surprising color choice now and then, I only have to look back at Tuesday's dead-center girl with the green lipstick to remind me–and that's easy, because she hangs on my wall.