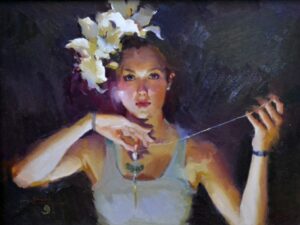 I feel very privileged to have been invited to share some of my thoughts on the artist's life with such an incredibly accomplished group. I attended the OPA National show in Evergreen, Colorado, in June and was treated to one exceptional image after another. You guys are good!
Twelve years ago, I had to choose whether to make my living as a writer focusing on art, or put in my 10,000 hours to become a professional artist. I went with the writing and founded my communications business because I had already put in decades to hone those skills. I missed making art, but the business took all my time and energy until last year when I promised myself another year would not go by without a brush in my hand. I have a long way to go to measure up to the craftsmanship I see exhibited by OPA members year after year, but I find I am living a life in art and it's exactly where I want to be.
As an arts writer with an academic and experiential background in art history, I learn something from every interview, every research project, and I am constantly studying, observing, and refining my knowledge. I know you are too. Here is what I believe: Our imaginations are shaped by our lives' events and our art squeezes through those vast or narrow halls to bloom in the sunlight. So it has always been and shall be forevermore. The more we experience and imagine, the more vision we bring to our art. The more we develop our skills, the closer we come to truly expressing our visions.
In this post, I want to talk specifically about the importance of light and shadow in our art and to hear from you about how they function in your own work. Light and shadow are dependent upon one another—they are two sides of the same coin and one cannot reach its full potential without the other. There is no depth, no perspective, no dimensionality, no translation of subject matter without both light and shadow.
Shadow, or darks, are the alter ego of light. Darks define and shape, highlight, and push lighter subject matter into being. These two comrades echo one another to reveal subtleties and nuances that would otherwise not be possible. Shadow and darkness form the essential support system for light and allow our viewers to more deeply understand and access our subject matter. As author Terry Tempest Williams once remarked, "A shadow is never created in darkness. It is born of light." I find this statement a wonderful metaphor for how artists can look at light and shadow in their work.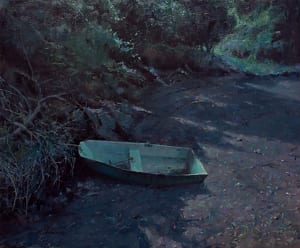 Think about what it's like to be out and about painting on a summer's night. The stars are brightest against that dark, velvety sky. Our senses are on high alert—we smell the earth releasing moisture into the air as temperatures drop, we enjoy a sense of heightened possibility, and shapes that look ordinary in daylight morph into mysterious, unfamiliar forms. In the studio, a scene that might otherwise be mundane becomes striking and dramatic when accentuated by deep shadow.
But our shadows must be more than just dark, negative spaces on the canvas. They must have a strong character of their own. We are called upon to look closely, deeply into every dark region of the scene before us—to seek out their rich subtlety and translate that to our canvases. Have you ever asked yourself why the most exciting things in life can be those invisible forces that we sense but do not see clearly? It's because those areas, without rigid boundaries, allow for possibility, for things that go "bump" in the night. They enhance a painting's narrative quality.
Pablo Casals, the cellist, once remarked that in music the notes not played are as important as the ones that are played. These are the grace notes, the silent beats of space between audible tones of sound. In art, shadow is the grace note, the essential, less prominent element that allows the attention-grabbing central subject matter to take the spotlight. It frames, supports, and defines the star performer.
I'd love to hear your thoughts and experiences with how light and shadow work for you. Have you experimented with lighting to create different moods or atmosphere in a work? Have you painted a scene where shadows dominate—or do you think that's possible? Is there a point in a painting where you look closely at your shadows to see if they are playing their strongest support role? Do they add to your paintings' narrative quality? Let's shed some light on the subject!