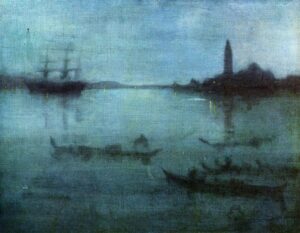 Painting, brushing oil paint onto canvas, is my profession and my passion. I spend my life creating paintings and displaying them in shows where patrons and artists alike pace in variable rhythms. My paintings are what the art world calls representational, meaning its subjects represent reality. And I'm not alone.
Against all odds in this digital age, there appears to be an increase of representational painters "of like nature, chosen by the Gods," as the artist Whistler put it. Gripped by the desire to paint, we have awakened into a fascinating new world and have come to find that sense of calling holy!
Around the globe, classical painting ateliers are taking root. They are admitting full-time students, some of whom are attending after graduation from university art schools.
Similarly, one-week painting workshops with master artists can be attended in hundreds of venues, hosted by art centers or individuals. I was the beneficiary of four of these master workshops, and now conduct them myself.
And yet, as we painters continue discovering dusty, forgotten art books, we open the sacred pages and wonder, when and why was this lost from the world. Why is it today there is little acknowledgement of representational painting, and a noticeable indifference to painting in general?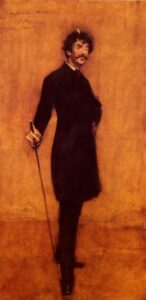 In this essay, I want to take you back in recent art history with me. As you see my opinions on the causes leading to the current state, you might understand better how you can be a part of helping our society nurture artists, and more specifically, painters.
130 years ago, the expatriate American artist, James Abbott McNeill Whistler, gave a lecture that some historians believe was an impetus for the changes in art through the 20th Century. It was called, the "10 O'Clock". Delivered at 10pm, February 20, 1885 in London, it was one hour long, and was delivered to an audience composed of fashionable Londoners including artists, dealers, and members of the press.
In the lecture, Whistler preached his idea that "as music is the poetry of sound, so is painting the poetry of sight". He was attempting to elevate painting so that beautiful cadences of brushstrokes and color were worthy of appreciation alone,regardless of any implied narrative or virtue. With this philosophy, an artist might choose to paint a poor beggar over a celebrity, or a dingy street over a grand estate. He might also choose to let the rendering be more naïve in quality. The Impressionists were already painting by that philosophy, but Whistler had the ear of the public, and like a deft lawyer, he made an effective case for it.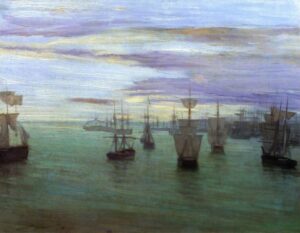 The societal expectations set by art writers and critics of the day, were met by Whistler's simple verbal swords: "Art happens—no hovel is safe from it, no Prince may depend upon it, the vastest intelligence cannot bring it about, and puny efforts to make it universal end in quaint comedy, and coarse farce. This is as it should be—and all attempts to make it otherwise, are due to the eloquence of the ignorant, the zeal of the conceited." Whistler's proclamations made the way smooth for generations of artists, but flaws in human nature have a way of repeating themselves.





Changes to painting in the 20th Century
In the early half of the 20th Century, in the era of Impressionism, Post-Impressionism, Modernism, and beyond, painting was further loosed by the bohemian cry: "art for art's sake". From a technical standpoint, elements and principles of design were being severed and reassembled in beautiful new ways, stretching the boundaries of what was considered art. Speculation of purpose was left to the critics.
There are wonderful examples from every period of 20th century art, and a trip to the MOMA in New York will give you a good taste of the diversity and creativity that was unleashed.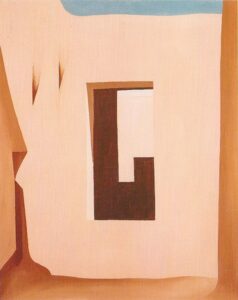 Representational painters adapted to the changing age, thriving on the freedoms afforded by the art for art's sake philosophy. Some of those were: Charles Hawthorne, Edwin Dickinson, Giorgio Morandi, Albert York, Georgia O'Keeffe, Fairfield Porter, Polly Thayer Starr, Elizabeth Sparhawk-Jones, George Bellows, Edward Hopper, John Sloan, Lois Dodd, David Hockney, Andrew and Jamie Wyeth, Richard Estes, Richard Diebenkorn, Israel Hershberg, and Wolf Kahn.
Some kept traditional veins of impressionism and realism alive, often improving upon their predecessors. Examples can be found in the American West genre artists like Frederick Remington and the California Impressionists like Edgar Payne.
Contemporary representational painters owe their thanks to these artists and many more for essentially keeping painting relevant.

Painting in the 20th Century: New Standards, and the Weakening of Craft
At some point in the 20th Century, there was a return to standards, with new and different rules. The art establishment no longer judged the quality of a painting or artist by art for art's sake. They used a litmus test of conceptual integrity or social awareness.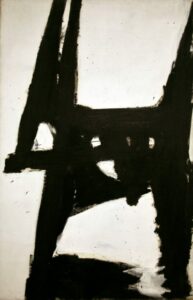 Western society remained traditional for the most part, and as art became subjective and less representational, abstract expressionist artists were encouraged to justify their work by articulating a deeper purpose. To me this is unfortunate because there were many stunning works, needing no explanation.
You can still see it today, artists and organizations use sophisticated-sounding language to explain philosophies, which comes off subtly farcical.
Listen to this description of a recent painting exhibition in the MOMA: "…each artist engages with painting's traditions, testing and ultimately reshaping historical strategies like appropriation and bricolage and reframing more metaphysical, high-stakes questions surrounding notions of originality, subjectivity, and spiritual transcendence."
You can almost hear the echo of Whistler crying, "The people…have been told how they shall love Art, and live with it….Alas! Ladies and gentleman, Art has been maligned. She is…occupied with her own perfection only—having no desire to teach."
Listen to what Whistler said in his lecture about trying to inject art with virtue: "…people have acquired the habit of looking…not at a picture, but through it, at some human fact, that shall, or shall not, from a social point of view, better their mental or moral state."
And listen to his thoughts on the writer or critic who: "…degrades Art, by supposing it a method of bringing about a literary climax…. his imagination be appealed to, by a very poor picture…. Meanwhile the painter's poetry is quite lost to him—the amazing invention, that shall have put form and colour into such perfect harmony, that exquisiteness is the result…"
And finally, listen to this interesting opinion of one of the most celebrated British artists of the 20th Century, from a BBC article called "David Hockney: Why art has become 'less'":
…he (Hockney) feels, museums and galleries have jumped too willingly into the unmade bed of conceptual art where lights go on and off in a game of philosophical riddles. But Hockney says "the power is with images", and in neglecting them the artworld has diminished the very thing it aimed to protect: art."
One fellow painter put it like this: "Modern art institutions purport that the idea in a work of art is more important than the execution of that idea." It stands to reason then, craftsmanship in painting has deteriorated for over a century.

Painting in the 20th Century: Push for Originality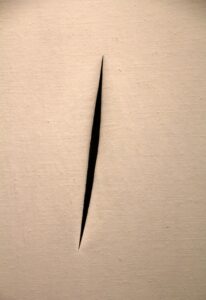 Today, representational painting is charged with anachronism, yet, the standard of originality was invented just like any of the standards of previous art periods, and consequently is self-defeating in the face of art for art's sake.
Perhaps where we went wrong was believing originality required such fundamental changes. In many ways art became unrecognizable from nature; from life. Why can't originality be recognized in the dexterity of a painters hand, or the things regarded or disregarded by their eyes. Fortunately, this is being recognized. A writer expresses it in a recent article this way: "Looking back at art history, aesthetic importance is measured by novelty, by the artist doing something that had never been done before. In our Postmodernist age, "real" originality can be found only in the past, so we have today only its echo. Still, the idea of the unique remains a premiere virtue." What this admits is that originality is no longer a comprehensive standard.

Painting in the 20th Century: Imagination Over Nature
Whistler said in his lecture: "Nature contains the elements, in colour and form, of all pictures, as the keyboard contains all the notes of music", but at some point in the 20th Century, artists began putting more value on the imagination, sometimes to the degree that nature was ignored altogether.
In a recent article, a writer critiquing a landscape show by Maureen Gallace, said: "…the unspoken assumption of the contemporary art world is that landscape is old-fashioned, a dusty souvenir of the 19th century." The writer attempted to qualify the work, however, by saying: "Her paintings suggest that she's spent a lot more time thinking about and looking at paint and paintings than she has thinking about and looking at scenery…(and also that her work is) fundamentally abstract."
Are we to ignore the impact of the beautiful world around us? Is looking at scenery a deterrent to good art? What is this writer admitting here? There is an inherent nihilism in art and in our culture today. In my opinion, it's an outright denial of a sentiment deep within our soul.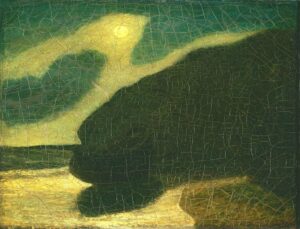 American artist, Albert Pinkham Ryder (1847-1917), expressed his reaction to nature like this: "…before my eyes framed in an opening between two trees. It stood out like a painted canvas…three solid masses of form and color—sky, foliage and earth—the whole bathed in an atmosphere of golden luminosity. I threw my brushes aside; they were too small for the work in hand. I squeezed out big chunks of pure, moist color, and, taking my palette knife, I laid on blue, green, white, and brown in great sweeping strokes. As I worked, I saw that it was good and clean and strong. I saw nature springing into life upon my dead canvas….Exultantly I painted until the sun sank below the horizon. Then I raced around the fields like a colt let loose and literally bellowed for joy."
Expressionism, several steps from Impressionism, veered so far from nature and reality that modern American artist, Marsden Hartley eventually tired of it: "Hartley…renounced expressionist art long before it became fashionable to embrace it. In 1928 he wrote that he had spent half his life as an artist obeying William Blake's injunction to 'put off intellect and put on imagination; the imagination is the man'….From this doctrinal assertion evolved the theoretical axiom that you don't see a thing until you look away from it—which was an excellent truism as long as the principles of imaginative life were believed in and followed. I no longer believe in the imagination. I rose one certain day—and the whole thing had become changed. I had changed old clothes for new ones, and I couldn't bear the sight of the old garments. And when a painting is evolved from imaginative principles I am strongly inclined to turn away because I have greater faith that intellectual clarity is better and more entertaining than imaginative wisdom or emotional richness….I would rather be sure that I had placed two colors in true relationship to each other than to have exposed a wealth of emotionalism gone wrong in the name of richness of personal expression"….Towards the end of his life, Hartley settled once more in Maine; and instead of trying to express his own personality, he devoted himself to the stern beauty of the native landscape."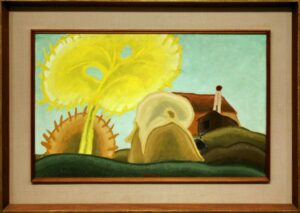 Even in his personal interpretation of it, modernist Arthur Dove (1880-1946) attributed his inspiration to nature: "I can claim no background except perhaps the woods, running streams, hunting, fishing, camping, the sky."
Whistler also advocated a personal interpretation of nature: "…the artist is born to pick (from natural elements), and choose, and group with science, these elements, that the result may be beautiful….To say to the painter, that Nature is to be taken as she is, is to say to the player, that he may sit on the piano."

Painting in the 20th Century: Abhorrence of Moralism
Can anyone ascribe morality or amorality to art? Any attempts to do so, and the case for art for art's sake has taken a blow. Abhorrence of moralism was a driving issue in the 20th Century and many in the art establishment were at war with the traditional values of Western society.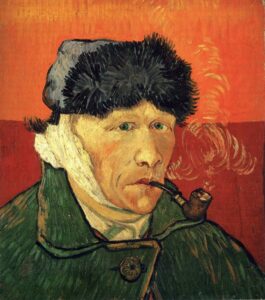 In Whistler's lecture he stated, "Let us reassure ourselves, at our own option is our virtue. Art we in no way affect." In this way he was pleading for the freedom to paint life as it is, the good and the bad alike. Some took this manifesto and turned it against the traditions they saw fit to unravel. The stereotypical bohemian artist was lionized and their moral lapses considered a part of the package.
Listen to N.C. Wyeth's remarks from a letter in 1919: "The strange and popularly accepted belief that great artists were invariably wayward, and are excused for it on the grounds of special privileges, is as false as it is impossible. No great artist ever thrived on such principles. If stories have been handed down to us of moral lapses in the lives of the masters, their work survives in spite of the mistakes, and not on account of them. No art justifies anything but honest, straightforward living. The moral superiority of Beethoven, the greatest of them all, comes to mind while I write this. Do we hear any of this in the art schools? Decidedly no." 8

Representational painting is in revival
A 2015 article on BBC.com entitled "Is Painting Dead?", announced with some amusement that: "…the art of painting seems to be thriving."
The culture will recognize it in time. Those that recognize it now might be invested in paintings of great value in coming generations. Interestingly, art movements are brought about by validation through collection.
From the above article, the author quotes artist RH Quaytman, sore about how collectors and markets can move art history:
"Art fairs, jpegs and the entire bloated art market are responsible for the resurgence of painting as opposed to all other art forms…. I'm sad that it is the structure of the art market that has revalidated and reinvigorated painting.… It's easy to store, it's easy to transport, it works well enough on the internet: it turned out that painting was, despite itself, the perfect tool."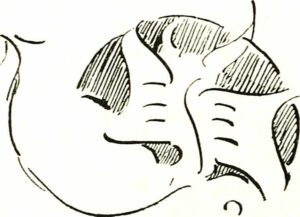 Painting is an incredible tool. It embodies potential of such poetry and beauty, and the call to master it is never satisfied. As Whistler said in his closing paragraph of the Ten O'Clock lecture: "We have then but to wait—until, with the mark of the gods upon him—there come among us again the chosen—who shall continue what has gone before. Satisfied that, even were he never to appear, the story of the beautiful is already complete…."
Hopefully you have gained from this essay a desire to look at and understand painting with more than a casual interest. You might find your growing admiration is rooted in your own desire to paint. Let yourself be drawn to representational art and become a part of the renaissance.
Whistler started something at 10 O'clock. Well now it's 12 O'clock…time for a new day in painting.
Sources: