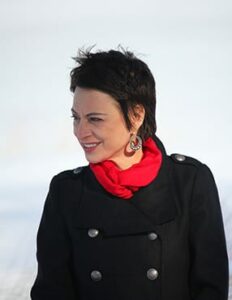 For just a few moments, I had the good fortune of meeting Elizabeth Pollie at the Oil Painters of America National Show, held in Dallas earlier this year. She had just won the Dorothy Mellin Driehaus Fellowship Award for her wonderful painting, Halfway Home.
Her paintings are easily recognizable, varied in subject matter, and unique in composition, color, paint application, and texture. Surely they are a true reflection of her personality which she describes as slightly unpredictable, playful, yet belying a serious side…"A bit hard to put your finger on", she says.
Showing her sense of humor, she perceives her strength to be, "thinking outside the box", but then the problem is, she has no idea where she put the box. I wondered how she determined her painting prices and if the popularity of a particular subject influenced her painting choices. She doesn't select subjects based on popularity, instead she just allows herself to paint whatever intrigues her. That reality shows in her work, and I believe that's why collectors and artists are drawn to what she does. When pricing her work, she looks at the price structure of other artists at her level professionally
and prices her work similarly.
Pollie approaches life enthusiastically…"feeding her wanderlust." She likes this quote by poet, Wendell Berry, "Nobody can discover the world for somebody else. Only when we discover it for ourselves does it become common ground and a common bond, and we cease to be alone." I don't think Elizabeth Pollie needs to ever be concerned about being alone.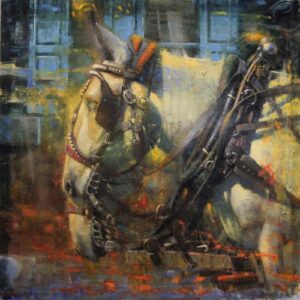 You worked as a commercial illustrator for many years, what's the biggest difference between that and fine art; do you miss illustration?
I was primarily involved in the editorial arm of illustration. This was the arena where one would be commissioned to create a book cover, a series of illustrations for a magazine article, etc. It was, to some degree, "The thinking man's" category. It was a glorious time in illustration given the amount of creativity artists were allowed. Metaphorical thinking was often a part of the equation. This gave rise to some brilliant images. Brad Holland was a hero, as well as many others.
I think there have been times in history when illustration, in some ways, exceeded what was concurrently happening within the fine art world. Often the requirement of strong technical skills along with the ability to go beyond literal translation can make for some very evocative imagery. However, I do not miss illustration given that it was so highly competitive and was vanishing rapidly as more and more art directors turned toward quick and easy digital solutions. I would like to think that when you turn a new page you might unwittingly bring along with you the most meaningful, delightful and essential passages.
How difficult was it for you to transition from illustration to fine art?
It was no effort at all. I had moved to Northern Michigan leaving behind many things. I was no longer teaching illustration at the College for Creative Studies and there was nothing I could blame as an outside distraction.
How would you define art?
There are many impersonal ways of defining art. Francis Bacon said, "The job of the artist is to deepen the mystery". I love that. I think that it involves creating something that when offered to the world somehow enlivens the senses in a sublime manner.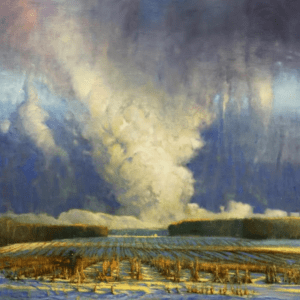 Why are you an artist; what motivates you as an artist and what do you hope to accomplish through your work?
John, I don't think there is a "Why ?" Those were the seeds I was born with. I have no question about it. This may be my one truth. As far as what motivates me, I think it's a slightly obsessive love of possibilities within the realm of representational imagery and trying to come up with an interesting and evocative solution.
"The world is full of wonder, mystery and any number of subtle connections. As a visual artist, I love exploring the nuances found within the confines of 'the everyday'. The artist, Paul Klee is quoted as saying, 'One eye sees. The other eye feels'. This dual lens is what comes into play when painting any subject matter. I believe the best paintings arise from the ability to balance what is easily observed with what stirs quietly just out of reach. It is the unspoken yet deeply felt nature of things that leaves me continually inspired."
How would you describe your painting style?
John, I would have to leave that to the critics. I don't really think In terms of style because there are so many ways to represent something in two dimensions, yet by comparison there are relatively few ways of describing one's style.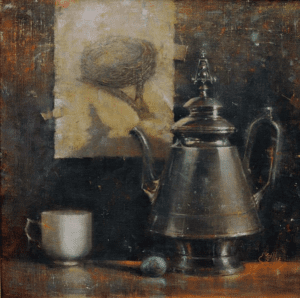 Has your painting style evolved naturally or did you make a concerted effort to achieve its uniqueness?
This evolution feels very natural. Really I think that all artistic evolution is a form of response to a combination of personal history and experience, current conditions, and ongoing stimuli. In truth, I sometimes feel more at the mercy of this process than assuming that I am behind the wheel.
You paint a variety of subjects; why is this important to you?
Admittedly, I have a restless spirit. On certain levels, how one thing relates to another often attracts me more than the subject matter itself. And, I think any subject can be imbued with a sense of mood, mystery and some kind of beauty. I recently saw a painting of a couch and it was simply gorgeous – the painting that is, not the couch. Put 10 great writers in a room and ask them to describe a glass of water sitting on a table. If you are mesmerized, it was the description not the actual object.
Animals represent an important part of your repertoire, what is the connection?
I was the girl who brought home every stray, filled her bedroom with stuffed animals and named each one, dreamed of having a house full of cats and dogs ( and subsequently did). It's impossible to describe how deeply I love and respect the animal world. Nor can I describe how I feel when I stand and watch them – it goes deep. Still, when I paint animals, I always begin by looking at them as a shape among shapes. As the painting develops the mood of the piece begins to come forward. With hope, nuances and layers that might describe my connection to them are woven into the initial structure. I hate the idea of simply painting a cute cow. I love the idea of painting the essence of something lovely.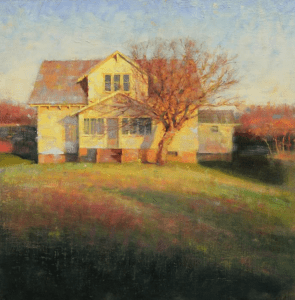 What is the process you follow in conceiving a painting; what are you thinking?
I focus on 3 things; design, light and mood. Design is the plot, mood is the overall feel of the story (the emotional core). Color, value, brushwork, surface, these are how one gets there.
Do you have compositional principles that you always adhere to?
No, but my tendency it to crop in and think of everything as a still life. I have no issues with moving, creating and getting rid of elements to strengthen the composition. I tend to prefer my compositions to be a bit more spare than busy…more quiet than noisy.
"Although my work has a very analytical side to it, I am probably more prone to be swayed by intuitive impulses. If you can see in your mind's eye, then at least you can head in that general direction. I have never been someone who relies on technical information. For me, painting is an initial idea followed by a series of questions and the answers that come up along the way. Every answer gives birth to a new question."
You seem to give considerable attention to paint application and the surface quality of your paintings, why is that important to you?
I recently heard an interview with David Hockney. He mentioned that the first thing he looks at when viewing a painting is it's surface! I think surface has a power all it's own. It feels as though it has a magical kind of DNA. It contains traces of its creation; its own private history. How could one enter the Colosseum in Rome and not want to touch everything? How can you walk through the woods and not lay your hands at least one tree? I think in many ways our eye's touch paintings, and even though they are always thought of as 2 dimensional, the surface lends a new subtle dimension.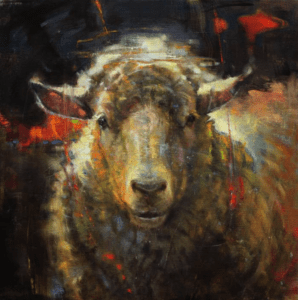 Please put these words in order: composition, technique, drawing, concept, edges, color, framing, value.
Composition and drawing are primary and equal in my book. Next I would say, value, technique, color, edges, framing. Concept is integrated into and guides all of these elements.
What colors are typically on your palette; how/why were these colors selected?
I use eight to nine colors… a warm and a cool of red, blue, yellow, plus white, asphaltum, and a few oddball colors. I also try to have at least four transparent colors on the palette. This allows me a great deal of color harmonizing, push and pull, as well as the ability to enliven the piece with pure chroma.
Do you have a color philosophy or is your choice of color, while painting, intuitive?
Primarily modulating within a chosen scheme…warm and cool, transparent and opaque, darks and lights. So, even if it's a warm painting, I still will play with relative" cools". When it comes to pushing color and mark making, it's quite intuitive and far from predictable.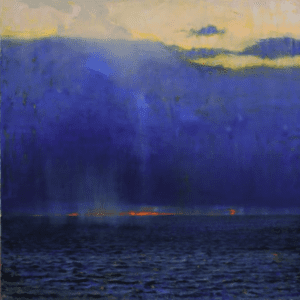 Please describe your painting process.
I have never been someone who adheres well to any kind of routine. Because of this I don't begin all pieces the same way. I don't really have a method. I sometimes start by laying down color, letting it dry and then choosing what to paint over it; that gives a diving board. Sometimes I draw something in and then throw down a color that will set up something to play off of. Again, the main concern is the design; it is not alla prima. I work all over the canvas in pretty thin layers, usually building up to a few areas of thicker paint.
"I think surface has a power all its own. It feels as though it has a magical kind of DNA. It contains traces of its creation, its own private history"
Do you consider the process of painting more important than the result?
Results, being the sum of the effort, matter greatly to me. The process, being the journey has it's own personal value but I am not at all attached to it. I often find that I am vexed by my own circuitous path. At one time, I thought that my time in front of the easel might become easier as my knowledge and skills grew. In fact, it's just the opposite. As my understanding has grown so has my desire to improve my paintings. As ones language grows so does the variety of choices regarding how they might articulate their thoughts. And so it goes.
What's the most difficult part of painting for you?
Trusting that the audience is smarter than I think. The human brain needs very few visual clues to piece something together. I sometimes think there is more power in what we leave out versus what we choose to include. Poetry is a great example of how very few words, used in brilliant combinations can create something utterly sublime. Finding this balance in painting is greatly challenging. I think tiny nuances have great impact. Knowing when and where to weave these in can be utterly confounding.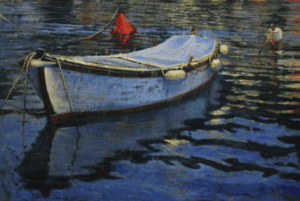 Who have been your major artistic influences; what specifically have you learned from each?
My father loved art and architecture. It was a language that was spoken in our home. And, I was lucky to grow up spending nearly every Saturday messing around in art rooms that were connected to our local museum. I could wander into the museum and spend time perusing the various collections and special exhibitions. There was a Cassatt, a Sargent, a William Wendt, an Andrew Wyeth and several Hudson River school painters. By the time I went to art school I had my own inner-catalog of favorites. At eighteen, I loved Francis Bacon and then Edward Hopper. In my twenties I was smitten with American Regionalism (Grant Wood, Thomas Hart Benton , etc.) and the Canadian Group of Seven.
When illustration became my primary focus I delighted in the illustrations of N C Wyeth, Howard Pyle, Dean Cornwell and Frank Brangwyn, and the line work of Arthur Rackham; this was all before I was thirty. As the years passed, more and more artists piled in and continue to do so on a regular basis. I suppose it's one big happy family that continues to grow and help inform my own visual vocabulary. Perhaps that's why I am never lonely in my studio, at any one moment in time there's a pretty big crowd milling about in my head.
I think the best use of influence is to receive it in the form of inspiration. If something trickles down, I'd prefer it is almost unconscious. The one thing I avoid is looking at anyone else's work while I paint because I find it can undermine my sense of trust in my own instincts.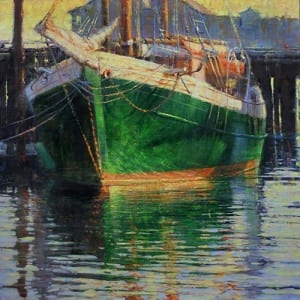 How do you suggest one finds their individuality as an artist?
I don't really have a clear answer for that. I would suggest that an individual who is in the earlier stages of their development not attach too firmly to one artist. Instead, I'm inclined to encourage people to fall in love with art history. Of course, learn about the craft but I think there is something profoundly important about knowing how one art movement gave way to another. There is always something to be learned by reading about the struggles of noted artists. Drink it all in. It's so rich and relevant on many levels. Go to museums. Be dazzled, amazed and curious. Take this same awe and curiosity with you wherever you go; carry it with you into the woods, up and down the aisles of the grocery store, down along the railroad tracks, this can only enhance and expand your own point of view which is always there waiting to be expressed in it's own unique way.
"I don't feel all that successful as an artist. I think the way I measure personal success is pretty complex and I feel I have such a long way to go."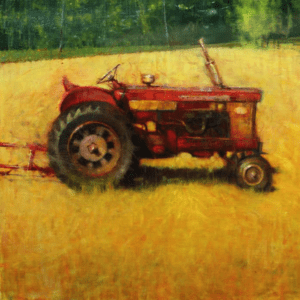 What's a typical day look like?
Anybody's guess. I have some health issues that from time to time cause pretty big fatigue. This only means my days start later and I might struggle a bit with focus. Turns out, energy is a rather wonderful thing. But all in all, I feel so lucky to get up in the morning and look out over Lake Michigan. It centers me. On my drive in, I often stop to say hello to a group of cows that I pass everyday. That just makes me happy. I have lunch with my husband. And, finally when I find myself in front of my easel I usually stay there, for better or for worse, and have a good long go at it.
What is West Wind Atelier?
West Wind Atelier was the name of my first studio in Harbor Springs when I moved to Northern Michigan. It was where I worked, taught and exhibited my work. I've since moved to a different studio and I own a gallery named Elizabeth Pollie Fine Art where I sell my work and represent Marc Hanson, Mark Horton, Derek Penix, Kathleen Newman, and Shannon Runquist.
Many thanks to Elizabeth Pollie for this beautiful interview. Why don't you let her know how much you appreciate her sharing part of her life with us?