Attending my high school class's fiftieth reunion this past June has me in a reflective mood. Home, back then, was South Florida, and I had not been 'home' for many years.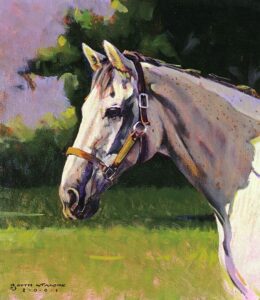 It was a good school, Coral Gables High. A large and diverse student body; integration came in '65––our class was the first to go all three years together––but South Florida was already a melting pot and that was no big deal, at least at our school.
A moment ago I was listening to a song on Pandora; one I often heard played years ago: Thanksgiving, by pianist George Winston. He made the recording in the late seventies I think, and then went on to sell literally millions of albums. Triple Platinum. To help out I bought several; still have them, awaiting vinyl's inevitable return.
George graduated a year ahead of me at old Gables, captain of the varsity in basketball and baseball his senior year. So who suspected he also played piano? Not me, certainly. In my own class, a skinny kid, Winston Scott––in my mind I see him clearly, playing trumpet in the middle of our school band's brass section––became an astronaut. What the––! Another boy I knew chalked a cartoon on the blackboard each week of football season, lampooning the opponents in our next game. Between classes everyone would peek into that classroom to see what he had drawn. Frank wound up in Hollywood and was Artistic Director for Shark Tales and Sinbad. Okay, I should have seen that one coming––didn't––I was not even aware my school had an art club. I could draw––could even cartoon––but so what? Couldn't lots of people? No? Really? Well, never mind––no one makes any money at that anyway.
My younger self put so much effort into being unremarkable­­.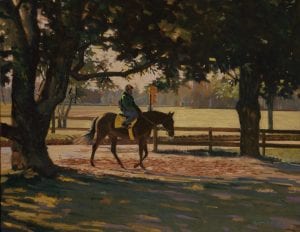 My point (and I almost always have one): like many young people, I had talents or, at least I had a talent. What I lacked was the imagination to develop it, the confidence to follow it. George, Winston and Frank saw doors and went through them. All I saw was a room. Rooms are comfortable places. Safe.
Imagination, creativity––drive; these are all 'muscles' inside us that have to be exercised and developed to reach our potential, just as an athlete builds up and trains his/her body. In 1968 my imagination was the proverbial 'ninety-pound weakling,' and I was not into exercise.
I did not take my first art class until my junior year in college. I immediately switched curriculums. My talent was evident––but I could not see the career steps to follow, and no one was offering advice. Still in my 'room.' It was not until I was out of college that my imagination finally kicked in, and I found my first door. I can even identify the moment: seeing John Singer Sargent for the first time. "I have to learn how to do that!" My job at that time had me on the road, so I visited museums regularly––the L.A. County Museum, the Gilcrease, the Amon Carter––and examined the early work of famous artists. I noted some of it was not so good––which was actually encouraging: "Why, I can do better than that!" I began to read and to learn––calisthenics if you will––something just as important as 'exercise'.
Long story, short: I did not pursue art professionally until I was thirty-four. Just one year later I got very lucky: horses.
I am from among the 'bootless and unhorsed'––I am not, have never been (and never will be) a horseman––yet I stumbled through a wonderful door into the field of painting horses: "We make brown look good." Ahem.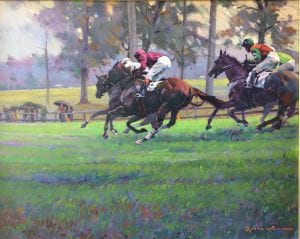 By happenstance I fell in with horse people who took the time with me to explain the subtleties of their particular sport (which are numerous) or the characteristics of a particular breed (even more numerous) When I was shown paintings by Munnings, I (again) said: "I have to do that!"
Now I say to others: "You have to do that." Don't suppress your talent. Find the doors. Every question of subject matter, composition, technique, is a room you are placed in. It is your job to find the exit doors. They may lead only to another room. But there you will find fellow travelers: ask lots of questions, that you may be prepared to leave many answers.
It is the way it is done.
I would not change a thing, if I could turn back the clock. (Once I became an artist that is––who wouldn't tinker with their high school years?) Painting horses and equestrian venues exercise and combine all my (current) artistic desires. Horses are the most varied, versatile, nuanced, and aesthetic animals on the planet, the most difficult to 'bring off', presenting a never-ending challenge for figurative painters, or for painting landscape, historical events, materials, textures, equipment, lighting, action, motion.
Not everyone thinks of 'horse painters' that way––I know that.
It is just the room they are in.